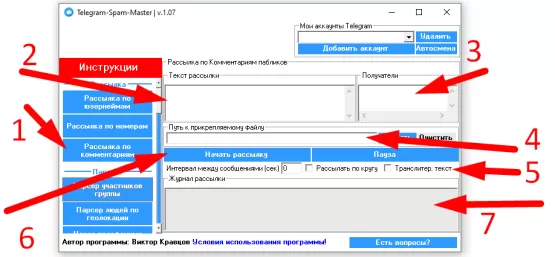 Mailing on public comments does not leave entries in groups directly. This functionality is intended for leaving comments under the posts of news publics (those where under each post there is a "Comment" or "No. of comment(s)" button). If you need to leave posts directly in the group, you need to select the "Username Distribution" module
In order to make a mailing list on comments under records (posts) in public, you need to:
1) In the left menu of the program, select the item " Distribution by comments " (point 1 in the screenshot)
2) In the field " Mailing text " (item 2 on the screenshot) write the message that you want to send to users or groups. If you want to add emoticons to the text, use the module " Text converter with emoji "
3) Specify the recipients in the " Recipients " field (Item 3 on the screenshot). Recipients are specified as Username (For example: user123 ), or as a link ( https://t.me/user123 ) if they are groups. Important! Don't forget about Telegram limits! Recipients must be indicated in a column! Each recipient on a new line! There should be no gaps between them!
4) Also, you can specify the file that will be attached to your message (Item 4 on the screenshot). It can be a picture or a video ! IMPORTANT THAT THE FILE PATH DOES NOT HAVE RUSSIAN LETTERS!
5) Optionally, you can configure additional mailing options, such as interval and checkboxes " Send in a circle " and " Text transliteration " (Item 5 on the screenshot)
6) Click " Start mailing " (point 6 on the screenshot) to start the program.
After that, the program will start receiving information about the specified publics. Take the LATEST entry from the wall and try to post a comment on it! All actions and their results will be recorded in the mailing log (point 7 in the screenshot)