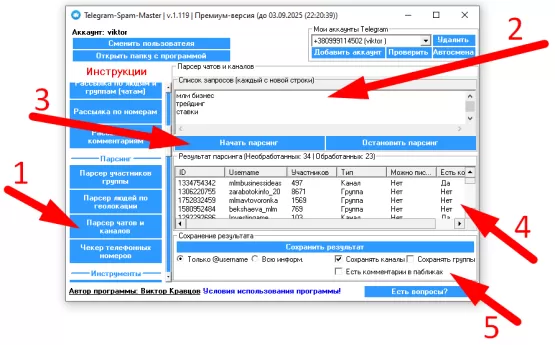 This functionality of the Telegram-Spam-Master program allows you to find Telegram publics and groups according to your requests. However, it is worth remembering that the program works like the official telegram client . Therefore, you may encounter some restrictions!
For example:
1) The minimum request length is 4 characters (letters)
2) For some requests, the maximum number of groups and publics is 10 pieces
You can also diversify queries to increase the number of results. For example, in queries, write not " Trading ", but " Trading [CITY NAME] ". This way you can see more results!
In order to find groups (chats) and channels for sending or parsing members, you need to:
1) In the left menu of the program, find the button " Chats and Channels Parser " and click it (Item 1 in the screenshot)
2) Enter in the " List of requests " field (Item 2 on the screenshot) a list of phrases by which the program will search for groups and publics in Telegram.
3) Click on the " Start parsing " button (Item 3 on the screenshot).
4) After that, the program will start searching for Telegram groups and publics. The output will be made in the " Parsing result " field (Item 4 on the screenshot)
5) You can save the parsing results. To do this, you need to select with checkboxes what exactly you want to save (for example, channels in which it is possible to comment or save only groups ) and click on the " Save result " button (Item 5 on the screenshot)